Welcome to Road Trip USA!
Road Trip USA is the right place for you if you've ever dreamt about experiencing the beauty of the United States by car: driving through Arizona's deserts, Florida's national parks or California's coastlines. I'm a seasoned traveller and have driven through the USA multiple times by car and want to share my experience with you: on Road Trip USA you will find complete itineraries of road trips, including travel maps, the most important sights, hotel recommendations and booking tips!
Road Trip USA Complete Guides:
Coming Soon!
Coming Soon!
Coming Soon!
Coming Soon!

About Road Trip USA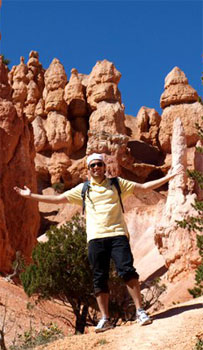 My name is Hans and I'm an avid traveller having visited 70 countries on this beautiful globe already. I am also the author of Travel Photographs, where I collect my photos I took all around the globe and Travel Tripods. Despite the high number of countries I visited I still have to say that my favorite way of travelling is road-tripping the United States. Nothing compares to the feeling of having a great (rental) car below you (convertibles preferred) and miles and miles of roads to discover in front of you. Having been to the US 13 times already and doing road trips all around the country (even driving from coast-to-coast) I want to share my experience with you: I created Road Trip USA to help you plan your own road trips throughout the US. Therefore I've put together complete road trip guides with all information you need to discover a certain part of the United States by car: itineraries, scenic routes, hotel and rental car recommendations, sights, maps and everything else you need to know!
You can also get in touch with me on Twitter and Pinterest – looking forward to hear from you!